Due to the rise in the Delta Variant, Harris County has declared us to be in the Red Zone, Threat Level 1.  Our Sunday service and other meetings will be held on Zoom until it is safe to meet at the Fellowship in person.
Are you a Unitarian Universalist?
We are people of all ages, people of many backgrounds, and people of many beliefs.  We are brave, curious and compassionate thinkers and doers. We create spirituality and community beyond boundaries, working for more justice and more love in our own lives and in the world.
Unitarian Universalism affirms and promotes seven Principles, grounded in the humanistic teachings of the world's religions. Our spirituality is unbounded, drawing from scripture and science, nature and philosophy, personal experience and ancient tradition as described in our six Sources.
Enjoy our recent Sunday services by visiting our Media page:
https://ufoh.org/publications/videos/
How Brave is Your Brave?   May 17, 2020
Easter Sunday Service, April 12, 2020
We celebrated our 60th anniversary in 2019, providing compassion and fellowship in the Spring Branch area for our members, friends and our community.   Here is a congratulatory message from Rev. Susan Frederick-Gray, President of the Unitarian Universalist Association:
Anniversary Message from UUA President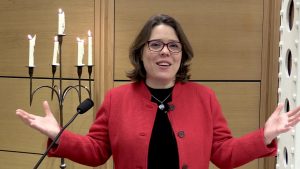 To learn more, watch a video from our lay minister, Patti Henry, presenting a talk on "Being a Deep Unitarian Universalist":
https://www.youtube.com/watch?v=22qYjL8ZEko
To view more of our Sunday sermons, visit our Media/Videos section.  Patti Henry generally speaks on the 3rd Sunday of each month.