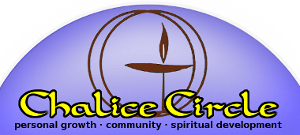 Chalice  Circle Schedule:  Meets on the 3rd Thursday of each month at 11:00 am  on Zoom.
Purpose: Chalice Circles are a time for sharing our ideas about the future of the Fellowship and its members in a safe, supportive environment. The time is designed to enable people to hear their own heart speak as they share in the supportive company of others. Participants benefit from both the opportunity to share and hear their own heart as well as the opportunity to practice supportive listening.
Discussion: This is a time for open sharing about the relationship between the Fellowship and its members.   This discussion will help us continue the work of the Fellowship and contemplating our personal growth.
Join Zoom Meeting
https://us02web.zoom.us/j/81088507770?pwd=TXkwYTEwcmVadW41cTRVVzZFMEdTUT09
Meeting ID: 810 8850 7770
Passcode: 867065